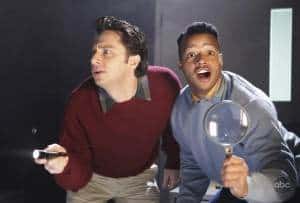 Earlier today we announced that Scrubs season 9 would be coming to an end in January (with ABC doubling up on episodes in the new year). The network has released promo photos and a synopsis for the December 22 episode, which you can view below.
J.D. CLAMORS FOR TURK'S APPROVAL AS HE APPROACHES HIS FINAL DAY OF TEACHING AT SACRED HEART, ON ABC'S "SCRUBS"
"Our Mysteries" - J.D. still clamors for Dr. Turk's approval as he approaches his final day of teaching at Sacred Heart, Lucy searches within herself for the courage to perform a basic medical procedure on a real human, and Denise and Drew make things official, on "Scrubs," TUESDAY, DECEMBER 22 (9:00-9:30p.m., ET), on the ABC Television Network.