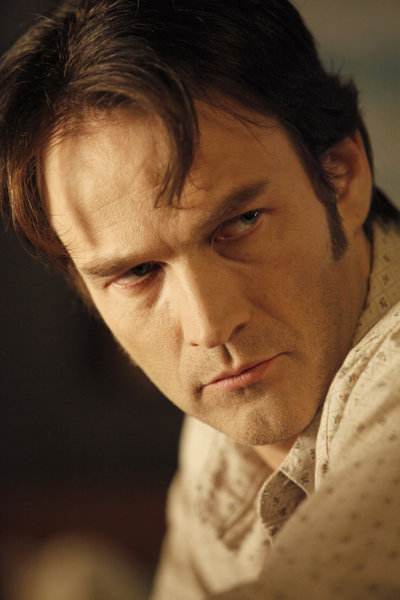 Admit it. You were bored.
Unlike Season 2, there are no Maenad orgies to tie this season's many divergent stories together. No crazy glue to hold all of the insanity in place. And True Blood is suffering badly from it.
When Russell (Denis O'Hare) brought his show to the news a few weeks back, it appeared that such a thread had been created. Finally we would have a universal threat that would bring all of our favorite characters back together. An epic struggle between the fate of vampires and mankind. Or not.
Instead we get talking dolls, "pretend" fights between Eric (Alexandar Skarsgard) and Bill (Stephen Moyer), high school quarterbacks on V (Friday Night Bites), a failed Wiccan abortion attempt (seriously, does anyone care about Arlene and her exorcist baby at all? Where can this possibly be going? About the only thing I can think of is Bon Temps being terrorized by Chucky from Child's Play next season) and more guilt and weeping about Eggs. Was this guy really so great Tara (Rutina Wesley)? I mean, your relationship pretty much consisted of vandalism and angry boning under the influence of a Greek nymph. Not exactly the stuff soulmates are made of.
To Read More Click Here.