Two worlds will collide when "Gossip Girl" airs an episode where Tyra Banks, the host of "America's Next Top Model", pays a visit as an actress named Ursula Nyquist later this season.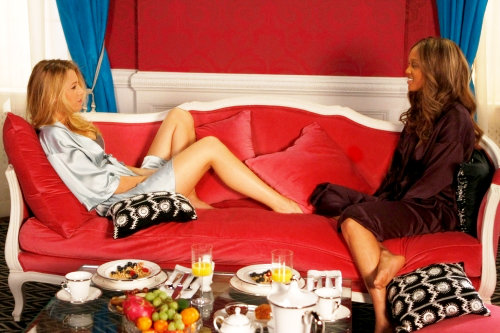 There is little detail about Tyra's role but it was reported that Serena will get a job as a publicist taking charge of Ursula's movie premiere night. No episode date was suggested.
Apart from sharing some scenes with Blake Lively, Tyra will also meet another guest star Hilary Duff who plays a movie star in disguise, Olivia. They have shot their joint scene and Duff said, "It was fun to work with her in a different atmosphere than appearing on her show. She looked beautiful and did a really great job. She had the flat hair that squiggles on her forehead. Very flapper-ish!"
"Gossip Girl" has begun the third season last week and will air a new episode on Monday, September 21. Blair, who is determined to maintain her Queen status in college, embarks on her first day at NYU, along with Dan and Vanessa. Unfortunately, Georgina (guest star Michelle Trachtenberg) turns up as Blair's roommate in the dorms, determined to make Blair a social outcast.