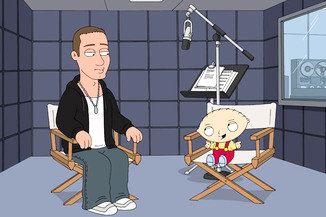 Eminem is pressing full throttle in promoting his latest album "Relapse", scheduling himself to appear in an animated form along with "Family Guy" megalomaniac baby Stewie Griffin. His segment with the trash-talking baby is part of Fox's Animation Domination evening which will air on Sunday, May 17.
On working with Stewie, Eminem said, "I was thrilled to work with Stewie. I'm a big fan of talking babies and their humour." Similarly, Stewie also shared his thought on meeting the rapper, saying "I was just about to meet him, but after I shook hands with his stylist, his assistant, his lawyer, his bodyguard, his other bodyguard, his photographer, his manager, his hanger-on, his flower girl, his driver, his videographer, his notary, his historian, his her-storian, his texter and his own greased-up deaf guy, I got the swine flu."
The special event is two days shy of Eminem's album's release date which is May 19. According to FOX, there will also be a surprise announcement from My Space Music which additional details can be obtained on the night via MySpace.
The animated stint is not the only TV invasion that Eminem does. He is scheduled for a three-days appearance on "Jimmy Kimmel Live!". On Friday, May 15, the rapper will hold a late-night musical performance at 12:05 A.M. ET/PT, following it with two other performances on Tuesday, May 19 and Friday, May 22.