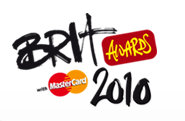 Lady GaGa dominated this year's BRIT Awards which was held on February 16 at Earls Court Exhibition Centre in London. The dance queen who arrived on the red carpet in a beehive and huge white dress won three prizes.
First, she picked up International Breakthrough Act, beating Animal Collective, Daniel Merriweather, Empire of the Sun and Taylor Swift. She cried when collecting the award, "I love my fans, thank you my fans in the UK. I can't tell you how much this means to me."
During the acceptance speech, she also mentioned Alexander McQueen who passed away last week. That was the second time she gave a shot out to her designer friend. Earlier that evening, she paid tribute to him when performing a medley of her acoustic songs.
After a video message from Prince Harry, GaGa was once again called out to come onto the stage for her second gong. This time around, she received International Female Solo Artist, winning over Ladyhawke, Norah Jones, Rihanna and Shakira. "Thank you so much, thank you," this singer told the crowd. "I am so honored to have these awards." Taking a china cup of tea, she even included her rumored boyfriend Matthew Williams in her thank-you list.
To Read More Click Here