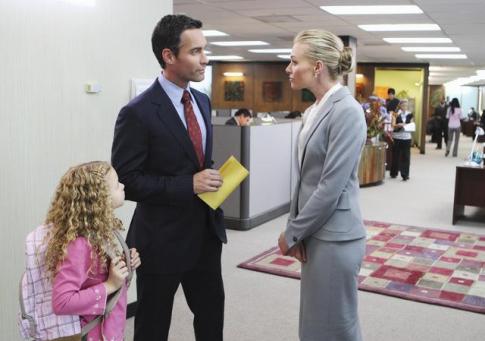 Better Off Ted just continues to get well... better. During last night's episode, Ted brought his daughter, Rose, to work with him and she affected everyone.
Our favorite moments from this episode, though, all involved Veronica's interactions with Rose. Unreal. You can catch up on the events in our "Through Rose Color HAZMAT Suits" recap.
Ted, Rose and Veronica
Be sure and check out the always witty Better Off Ted quotes from the episode:
Ted: I have to watch Rose.
Veronica: I can wash Rose.
Ted: I said "watch" her, not "wash" her.
Veronica: Hmm. Even easier.
Ted: The fact that you thought I was going to go wash Rose right now makes me think you may not know that much about children.
Veronica: I know they need to be cleaned
Ted: Did you even notice I have my daughter with me today?
Veronica: I look at people's eyes when I talk to them, Ted, not at their waists
Linda: Kids. God's little awkward-moment machines