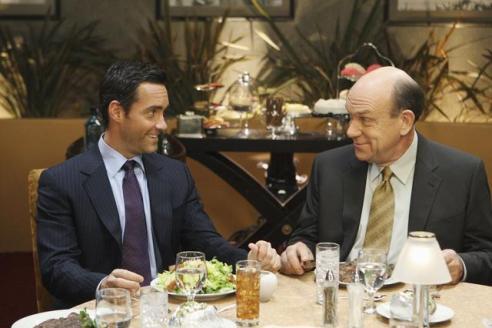 Last night was the season finale of the incredibly short first season of Better Off Ted. During the episode, company morale was low and Veridian Dynamics was ready to do whatever it took.
Veronica tried to clean up her image by giving more compliments, Ted tried to please middle management over fifty, and Linda got her cubicle theming approved.
Ted at Lunch
Now for our favorite Better Off Ted quotes from the episode:
Manny: Ted, you're so put together. It's like you stepped out of a magazine. Didn't you ever get a mustard stain on your shirt, or a hooker's vomit on your pants?
Ted: Well, I did do one of those things when I was twelve at a baseball game. I won't tell you which one it is, but it was the game of my life
Veronica: Another time, another place. Two other people, it could have been magniflorious.
Phil: You mean that?
Veronica: I do. Particularly the part about two other people
Phil: My wife says I wouldn't know comedy if it ripped my face off.
Veronica: Good for you for having a wife