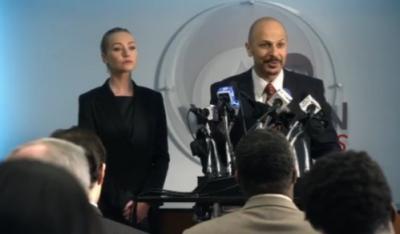 On last night's Better Off Ted, Veridian Dynamics finally got what was coming to it when it got a lawsuit for yet another one of its shoddily tested products.
Dr. Bamba Confesses
What resulted from dispositions from each of the employees was a breach in trust.
Now for some of our favorite Better Off Ted quotes from the episode.
Veronica: Remember that perfume your team developed about a year ago? In 3 out of 5,000 women, it reacts with their body chemistry and attracts hornets who want to mate with them.
Ted: And when the hornets realize they've been deceived, do they just laugh it off?
Veronica: If by "laugh" you mean sting over and over again in endless waves of fury, then yes, they have a wonderful sense of humor
Lem: MIT was the best: the academic clubs, the dorms, the guys, the girl.
Veronica: We can't let the CEO take the blame, and you're the one who blabbed.
Linda: But I'm the only one who did the right thing.
Veronica: Well, you know what we call that? Irony