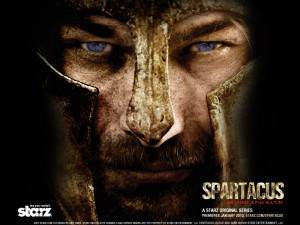 Spartacus: Blood and Sand is maybe the most painful and boring TV pilot I've ever seen - and before I go any further, I'd like to add "confounding" and "juvenile" to my list of adjectives. I can only imagine that this show came to be when one producer said to another, "we need to make 300: The TV Series." If you can imagine the story of Spartacus being told in the style of 300, then you know exactly what you are in for.
The combat (and there's a lot of it) is filmed exactly the same way, except it doesn't quite work here. Zack Snyder was somehow able to hide his lack of budget while making his movie. Every time Spartacus goes outside or goes into combat, it becomes abundantly clear that the green screen is just a foot behind our hero. The image is flat and lifeless. Interesting things happen from time to time (they'll slow the frame to a halt to make sure you catch it), but when it's so obviously fake, it's just inappreciable.
Maybe part of 300's success was Gerard Butler and Lena Headey's performances. When either of them are on the screen, I'm not paying attention to the background. Their performances bring you in or make you laugh or just entertain you silly. Only John Hannah (of The Mummy movies and Four Weddings and a Funeral) comes out of this unscathed. No-one else does anything to help the series. I feel the worst for the women. They show up only to get naked, scream in slow motion, or recreate the love scenes from 300 - it's even edited the same way.
To Read More Click Here