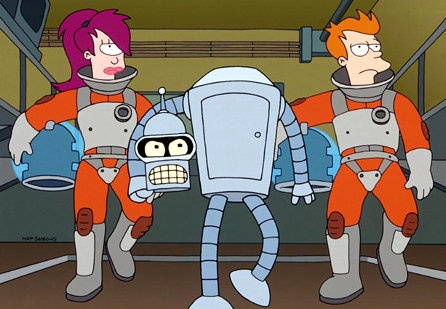 Professor Farnsworth reminds the temporarily-amnesiac Fry of how their spaceship passed through the Panama Wormhole in the first clip of "Futurama" season 6. The Comedy Central animation returns on screen June 24 with the episode "Rebirth" where, after the events of Into the Wild Green Yonder, all the characters will be reborn.
"Matt [Groening] and I decided to make sure people knew right away that this was Futurama in its classic half-hour form," executive producer David X. Cohen said in a chat with EW of what can be expected from this season. "We wanted to quickly establish in the first episode that the characters are back from their DVD adventures. Fry and Leela return relatively quickly. Very quickly we get back to the Planet Express headquarters in New New York City - and the only slight hitch is that everybody is dead."
On what kind of stories will be told, Cohen said, "We're going to see our versions of Twitter and iPhones in the future, as Fry posts embarrassing videos of Leela online. The difference is, in our version of the iPhone, the iPhone is implanted in your eye. It's a tiny hovering screen in front of you and it's even more annoying than the real iPhone."
To Read More Click Here.