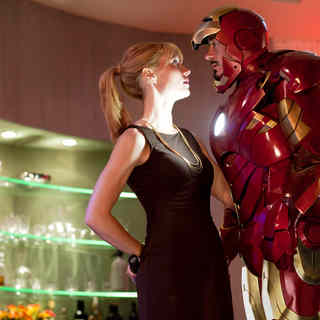 For those curious to know how Tony Stark and Pepper Potts' relationship will be told in "Iron Man 2", a new photo from the movie might give a hint. In one of the newly released production images, the major female character is seen drawing her face close to the billionaire's while her hand is put around his waist. Beside the said picture, there is another still which features Iron Man while he unleashes some flashy power from his hand.
During the development of the "Iron Man" sequel, there was rumor that the upcoming film will pick up Tony's love triangle story. Responding to the speculation, director Jon Favreau once claimed the film will still primarily focus on the relationship between the man in iron armor and his assistant, saying "I think the central relationship is still those two characters. It's still Pepper and Tony."
To Read More Click Here.