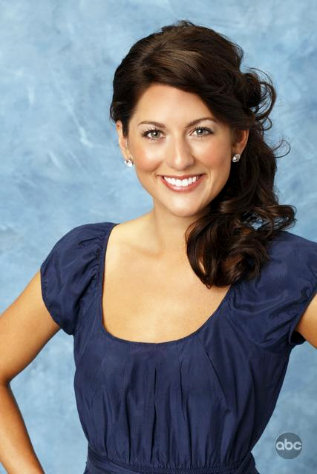 Striking while the iron is hot, ABC have announced that they put up "The Bachelor" castaway Jillian Harris as their next "The Bachelorette". The network officially signs the 29-year-old interior designer to find her own path of love in the show's fifth season after sent home by Jason Mesnick in "The Bachelor".
During the second part of "The Bachelor: After the Final Rose", host Chris Harrison announced, "It was really a pretty easy decision for us to make. There was one girl on (The Bachelor) this season that really captured America's heart and the groundswell of support for her to be the next Bachelorette was overwhelming. Ladies and gentlemen, help me welcome our new Bachelorette, Jillian!"
The reality show has not been taped, but the show is aimed for a May 18 premiere. Jillian was in the Top 3 of Mesnick's choice before he lets her go for Molly and Melissa. Previously Harrison also said that they were also considering to make Molly a Bachelorette since Melissa was picked by Jason in the finale. However, the twist of ending where Jason has a change of heart and picks Molly instead, makes this impossible.
Jillian herself admits to be excited joining the show, saying "Although I know there are no guarantees, it is a great, great opportunity to me to meet 25 guys that are a good match for me and I fell in love once before and know that this is a great venue for me to fall in love again."