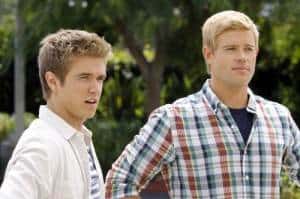 Jen has her baby and Silver tries to trap Mr. Cannon on the October 11 episode of 90210. We previously posted promo photos for this episode and now you can watch a trailer and sneak peek below.
A BEVERLY HILLS BABY IS BORN
Silver (Jessica Stroup), Naomi (AnnaLynne McCord) and Adrianna (Jessica Lowndes) craft a plan to seduce Mr. Cannon (guest star Hal Ozsan) and prove that he raped Naomi, but they underestimate his ability to control the situation. Teddy (Trevor Donovan) and Ian (guest star Kyle Riabko) are forced to do manual labor as punishment for fighting.