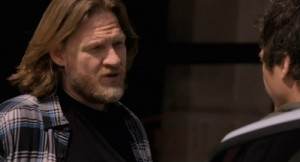 I'm still playing catch-up with the exciting amount of new television in front of me, so apologies for just now getting to Wednesday's stellar Terriers, which should definitely calm any concerns about the series ability to tell standalone stories or even the lesser concerns about the weight of the stories being told. Change Partners is not only an informative episode because of its revelations about Britt's past or how dirty Hank can get, but also a highly intense story that starts off goofy but quickly turns bleak. And it is definitely the best of the three aired episodes of Terriers thus far.
After feeling emotionally connected and charmed by Hank in the first two episodes, Change Partners rips that all away and makes good on the threat Gustafson made to Britt about Hanks' destructive ways. What starts as a job that will hopefully get him his mortgage, quickly turns complicated when client Harmon's weird fetish to see evidence of his wife Miriam cheating is discovered. As usual, Hank becomes more attached to Miriam instead of his original client and when their plan to fake the cheating (with a willing Britt) goes wrong, their similar feelings of loss and regret take over and they hook up.
To Read More Click Here.