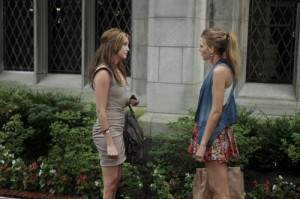 A storm hit the Upper East Side last night on Gossip Girl and her name was Juliet Sharp. With all of our favorite members of the UEP clique (sans Jenny) back in NYC, last year's issues can be dealt with the way they need to be: face to face.
Hurricane Juliet
Juliet went after Serena full force last night and she's doing it all for the love of some scraggly looking Calvin Klein model in prison. Who could this guy be? Have we seen him before? If not, what could he possibly want with Serena van der Woodsen? I'm loving Katie Cassidy in the role of Juliet, and wished like hell that she didn't get exposed so early in the game when it came to the Hamilton House incident (more on that later). Juliet was just displaying how dirty she could play, but she was called out the sandbox a little too soon for us to know how evil she can get. Now, Serena and Blair will be on the look out for future attacks. Although, Nate will serve as a decent decoy for now.
To Read More Click Here.