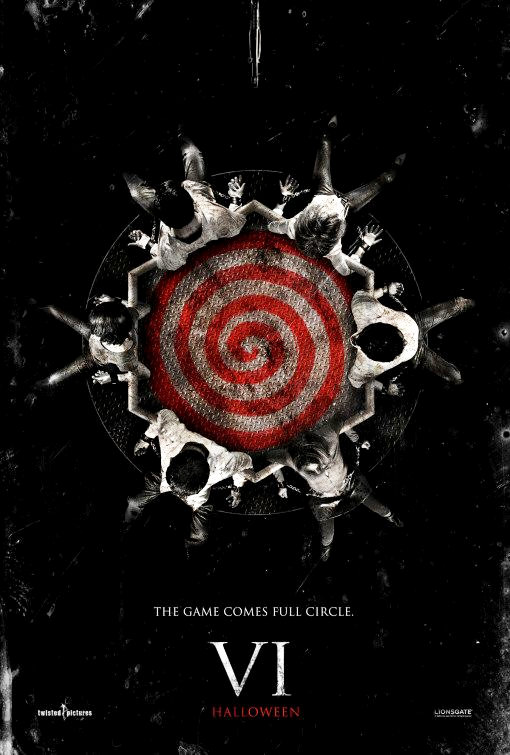 Jigsaw has gathered his new victims and placed them in his latest death trap. In the first "Saw VI" clip revealed by Lionsgate, a man enters a room wherein six of his most important associates are strapped into a potentially deadly carousel. Then, Jigsaw lays down the rule for the game: two live and four will die, and for those who live, the man has to make sacrifices.
The two-minute long clip reportedly has been shown to the visitors of San Diego Comic Con 2009 who come to the Lionsgate booth. Unleashing how the wheel of death trap works, it corresponds directly to the official one sheet outed by Bloody-Disgusting earlier, which is also displayed at the annual convention.
"Saw" series continue with "Saw VI". The story goes on like this: Special Agent Strahm is dead, and Detective Hoffman has emerged as the unchallenged successor to Jigsaw's legacy. However, when the FBI draws closer to Hoffman, he is forced to set a game into motion, and Jigsaw's grand scheme is finally understood.
The sixth installment of the horror thriller franchise will have Kevin Greutert as its director, taking over from "Saw V" helmer David Hackl. Screenwriter duo Marcus Dunstan and Patrick Melton are once again set to pen the script. Shawnee Smith, Costas Mandylor and Mark Rolston are among the cast members returning to the series. This movie is scheduled to open wide in the U.S. on October 23.
Lionsgate will present the world premiere of the film's teaser trailer at Comic Con 2009 on Thursday, July 23. The unraveling will be done by Jigsaw's depicter, Tobin Bell, before the 5 P.M. signing session. The teaser will be simultaneously streamed live on FEARnet.com and Justin.tv in addition to the official "SAW" Facebook page.
To Watch The ''Saw VI" Clip - "The Wheel of Death" Click Here.