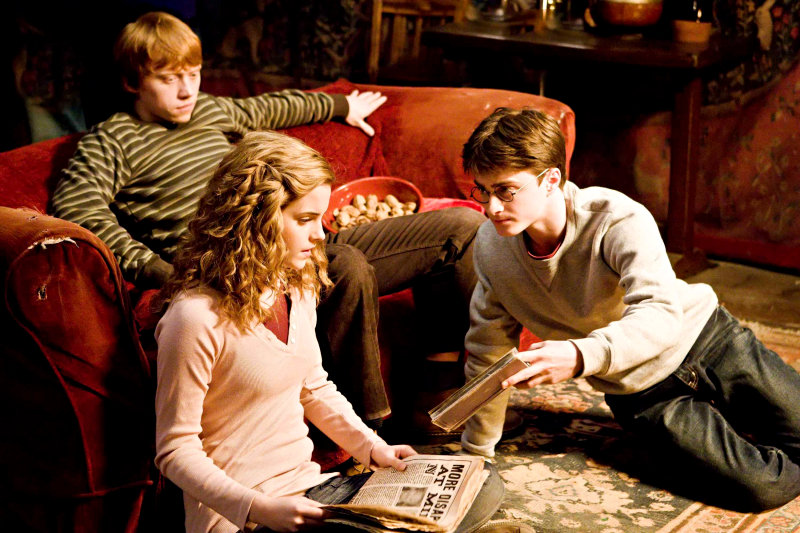 With "Harry Potter and the Half-Blood Prince" theatrical release fast approaching, two more clips from the adventure fantasy are made available for viewing pleasure. Instead of giving away the romantic scenes among Hogwarts students, both of the new clips highlight on the darker side and deal with the core of the much awaited film.
One of the clips comes from Moviefone. It focuses at the time Hermione and Ginny learn that the potion book belongs to a student named Half-Blood Prince. Meanwhile, the second one is debuted via MySpace and features Ginny jumping through fire and Harry running through a field during Death Eaters attack on the Burrow at Christmas.
Clips aside, the series' star Daniel Radcliffe has recently opened up about the romance sequence to be seen in this sixth installment. In an interview with The New Zealand Herald, the 19-year-old fessed up that he was ready for it. "By the time I made this film I'd done a nude scene on stage and a few kissing scenes, so I was totally blase," he recalled.
Though he was up for the sequence, the same thing didn't apply for his co-star Bonnie Wright who plays Ginny. "Poor Bonnie was very nervous," he said. "I hadn't factored that in. I'd taken it for granted that she'd be fine too. She'd never had to do that so I had to be calming with her and she did very well. Then of course you have Rupert Grint and the carnal delights of his relationship with Lavender [Brown], which is very entertaining."
"Harry Potter and the Half-Blood Prince" will center its story at the time when Voldemort's grip on both the Muggle and wizarding worlds is tightening. With Hogwarts no longer being the safe haven it once was, Dumbledore begins to prepare Harry for the final battle that he knows is fast approaching. Bringing in his old friend and colleague Professor Horace Slughorn, Dumbledore works together with Harry to unlock Voldemort's defenses.
Directed by "Harry Potter and the Order of the Phoenix" helmer David Yates, it features the likes of Daniel Radcliffe, Rupert Grint, Emma Watson, Michael Gambon, Tom Felton, Helena Bonham Carter and Robbie Coltrane among others. Rated PG, it will be distributed by Warner Bros. Pictures in U.S. on July 15.