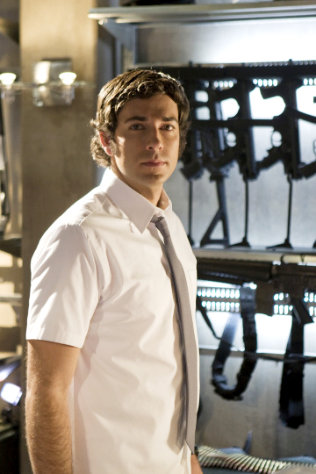 Spoilery facts from the third season of "Chuck" were provided when Zachary Levi, Chris Fedak and Josh Schwartz hosted a conference call which AceShowbiz participated last weekend. Some interesting ones include the fact that Kristin Kreuk's character would shake Buy More guys a little, more personal lives of the secondary characters will be exposed and someone else will learn Chuck's secret.
Regarding Kristin's role on the show, Josh said, "She plays Hannah and she's going to set multiple hearts affluter, not just Chuck's." Whether or not Hannah and Brandon Routh's character will come in between Sarah and Chuck, Josh commented, "They are obstacles for Chuck and Sarah but I think we didn't want to just bring in characters to merely be obstacles. I think you'll find that the way they interact in the spy story lines and certainly the case with Brandon's character is going to reveal complications and secrets throughout the season."
Reminding that Jeff got his big break in the second season, the producers said that Lester will get his turn of being on the spotlight. "He got to run Buy More for an episode," said Chris. Josh added, "Yeah, that didn't work out well." Lester for one thing will go bananas and be seen in his pajamas. "I promise this. We will see him. Lester's bedroom," confirmed Chris.
To Read More Click Here.