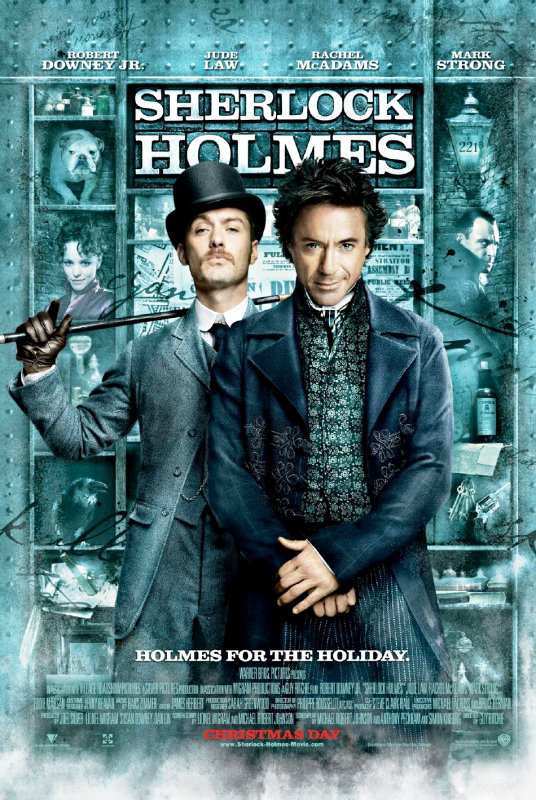 Warner Bros. is planning to present an extended trailer for the December-released "Sherlock Holmes" during "Family Guy Presents: Seth & Alex's Almost Live Comedy Show". The news about the trailer airing came up as this Guy Ritchie-directed adventure thriller stepped in to be the sole sponsor for the TV special, which is set for November 8 broadcast at 8:30 P.M., to replace Microsoft.
Fox made the announcement during the pre-show of Game 3 of the World Series on Saturday, October 31. It is still unclear whether the trailer will be weaved into the "Family Guy" special, but the network has mentioned in the Saturday promo that a sneak preview would run during the show, which could mean the trailer may be featured as a separate spot that runs before or after the special.
Around a week ago, Microsoft bailed out as the exclusive sponsor for the show after executives watched the show's taping. "We initially chose to participate in the Seth and Alex variety show based on the audience composition and creative humor of 'Family Guy,' but after reviewing an early version of the variety show it became clear that the content was not a fit with the Windows brand," part of the statement read.
The "Family Guy" special initially was expected to feature creative promotion of Microsoft's latest operating system Windows 7 woven into the show's content. As for the content of the show itself, it reportedly contained jokes about deaf people, the Holocaust, feminine hygiene and incest.
"Sherlock Holmes" is based on Lionel Wigram's upcoming comic book. The movie sends Holmes and his partner Watson on their latest challenge. Revealing fighting skills as lethal as his legendary intellect, the famous detective will battle like never before to bring down a new nemesis and unravel a deadly plot that could destroy the country.
Robert Downey Jr. toplines with Jude Law as Holmes' sidekick Watson and Rachel McAdams as Holmes' love interest Irene Adler. Meanwhile, Holmes' arch nemesis Lord Blackwood is portrayed by Mark Strong. The movie itself will be released in U.S. theaters on December 25.