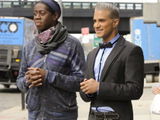 This season's Top Model journey begins at LAX airport as the 32 hopefuls board a coach to Palm Springs. The bus has a seating plan which initially confuses the models, but they soon learn that they've been placed next to those who represent their greatest competition.
Among the contestants vying for the prize this season are competitive sisters Chris and Terra, former Miss Teen Minnesota USA Vanessa and "country" girl Emily, who thinks this will be a culture shock. Cycle 11's Kacey is also back and determined to make a better impression this time around. Meanwhile, 6ft 2in Ann admits that she is "shy" and hates people quizzing her about her height and frame, while Jordan claims to represent the complete opposite of consumerism - although Lexie thinks she's being disingenuous.
To Read More Click Here.