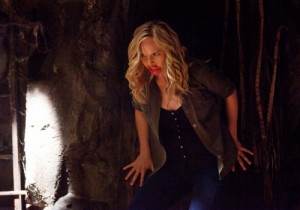 Holy wow! I'm going to agree with Mark (his excellent recap of Kill or Be Killed can be found here) and say that this episode deserves a hearty round of applause for such excellent story telling. Not only were questions that were thrown up last week answered but there were reveals aplenty, moments of high tension and anticipation and a cliff hanger that I did not see coming.
Nothing good could come from Damon failing in his plot to kill Mason, and this week the consequences of this failure were almost deadly as Mason revealed to the Sheriff (or Liz as she is out of uniform) that Damon and Stefan are vampires. She took some convincing showing what a brilliant job that they have both done at integrating themselves in Mystic Falls, especially with Damon and his work with the Council. The vervain in the lemonade revealed their true identities and sealed their fate at the sheriff's hands. Though the hurt that this caused Sheriff Forbes was nothing in comparison to her reaction to seeing her daughter with a blood smeared face after she masterfully took down the deputies. Caroline is indeed a vampire that you shouldn't mess with and shows that her strength is so much more than Stefan's all because she drinks the people blood (more on that later).
To Read More Click Here.