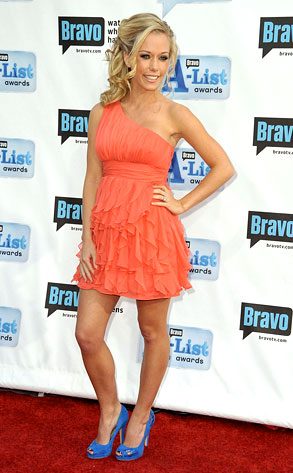 Kendra Wilkinson hasn't sworn off nude Playboy spreads for good, but any future shoots will be on her terms.
The last time we caught up with The Girls Next Door starlet, she told us she'd need to have a "big talk" with soon-to-be-hubby Hank Baskett and his family before even considering baring it all again for the magazine .
Now, Wilkinson says she and Baskett have had the talk...
"The discussion has come up, and the only way I would do another Playboy shoot is if Hank shot the photo shoot," Wilkinson told us yesterday at the 2nd Annual Bravo A-List Awards.
When asked if she's approached Hef with the idea, she giggled, "No, not yet."
In the meantime, Wilkinson is working on her upcoming reality show for E! "It's going to be me trying to be domestic - trying to be a domesticated woman - and it's just kinda like I've got an angel on my shoulder and a devil on my shoulder," Wilkinson explained. "It's like the angel wants me to be sophisticated and domestic and conservative; and then the devil's pullin' me."
Wilkinson says her real-life "devil" is close pal and Playboy Playmate Brittany Binger, who will be a major player on the reality show. "It's gonna be crazy," Binger beamed.
p.s. Binger also told us that Holly Madison and Bridget Marquardt will make cameos on the new show. Wilkinson may be leaving the mansion behind, but sounds like she'll still have a full house.