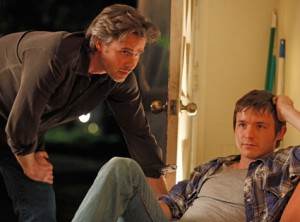 One thing that True Blood hasn't yet established this year is a villain. Sure, we've got Franklin (James Frain), the vampire detective with questionable motives, but he doesn't seem all that bad. And then we've got the Vampire King of Mississippi (Denis O'Hare), who, along with Lorena, seems to have permanently damaged Bill's relationship with Sookie. But there's one more bad guy who's going to be around all season long - Sam's little brother Tommy.
"He's harmless - in the sociopath, crazy-person sorta way!" Kristin dos Santos of E! Online claimed. Tommy's apparently "in it for the long haul this season," according to Kristin, whose source tells ehr that Tommy intends to "bring Bon Temps to its knees."
To Read More Click Here.