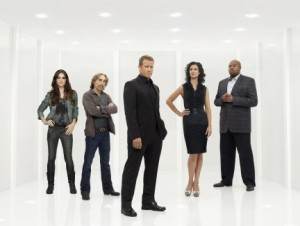 Human Target is finally here! I've been waiting with bated breath for this day, and now I can say this: it's my pleasure to bring you an advance review of the second-season opener, Ilsa Pucci, and officially kick off the next chapter of TV's greatest thrill ride.
The burning question for Human Target fans over the hiatus was how much the addition of new regulars Ilsa (Indira Varma, Luther) and Ames (Janet Montgomery, Entourage) would upset the perfect dynamic between Chance, Winston and Guerrero. The answer to that is not yet, and maybe, in that order. Varma is somewhat channeling Torchwood's Suzie Costello here, with a bit of an ego and a snarky remark at hand, but despite the episode bearing her character's name, doesn't overshadow Chance and Company. The question is if her constant bickering and bantering with Mark Valley is going to eventually become grating in a Moonlighting sort of way. Ames, on the other hand, gets a virtually sexpot introduction when she changes clothes in an elevator, to which I can only say please. The last thing this show needs is obligatory sex appeal. Montgomery doesn't fall too flat with her acting, but the character doesn't separate herself from what could be a very detrimental archetype, especially with a backstory that shows shades of Leverage's Parker, sans the endearing craziness. I'm not completely sold on either of them, but Varma has more of my confidence than Montgomery does. Fans who were worried will see their fears somewhat assuaged, but a proper verdict on these two will take more time than one episode.
To Read More Click Here.