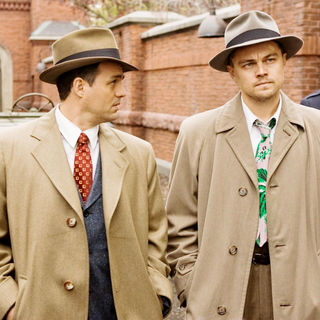 Oscar-winning director Martin Scorsese takes us back to the paranoid Cold War era in Shutter Island, based on the best-seller by Mystic River's Dennis Lehane. (Please be advised that this review may contain some spoilers.) This psychological thriller, set in Massachusetts in 1954, follows U.S. Marshal Teddy Daniels (Leonardo DiCaprio) and his new partner Chuck Aule (Mark Ruffalo) as they venture to Shutter Island, home of the fortress-like mental institution Ashecliffe Hospital, to investigate the inexplicable disappearance of a patient named Rachel Solondo. To make matters worse, a hurricane has trapped the two cops on this godforsaken rock for the time being.
As they try to determine how Rachel escaped and her current whereabouts, Teddy and Chuck are stonewalled by the warden (Ted Levine) and the hospital's urbane but shifty administrator, Dr. Cawley (Sir Ben Kingsley), who is championing a (then) revolutionary new method for treating the criminally insane. The deeper Teddy digs into the mystery of Rachel's disappearance and what is really going on at Ashecliffe, the more he himself grows disturbed. Teddy becomes haunted by memories of his late wife (Michelle Williams) and of the atrocities he witnessed as a G.I. during World War II. Has Teddy been exposed to something sinister on Shutter Island that's causing this breakdown, or has Ashecliffe simply unleashed demons that were already within him?
To Read More Click Here.