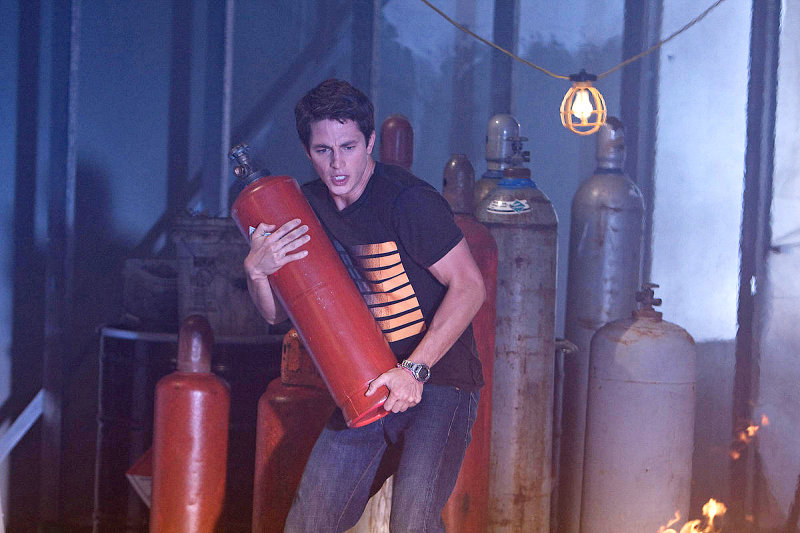 In a weekend that was highlighted with the release of two horror franchises, "The Final Destination (2009)" showed its dominance against "H2: Halloween 2". The fourth installment of the "Final Destination" series outran the sequel of director Rob Zombie's "Halloween" and closed the three-day weekend by grabbing the #1 spot at the North American box office.
Enjoying a boost from higher ticket prices for its 3-D runs in 1,678 3-D screens among the 3,121 theaters it was played, the thriller movie about a group of teens who try to cheat death collected an estimated $28.3 million. The opening weekend bow marked the highest opening weekend of the franchise as "Final Destination 3", which held the series' previous best only pulled in $19.1 million in 2006.
This New Line-produced "Final Destination" movie also gave Warner Bros. an industry-leading eight No. 1 openings this year. Commenting on the impressive run, Warners' Executive Vice President of Distribution Jeff Goldstein said, "This was great, and it was all about the 3D and the fan support for the 'Final Destination' franchise."
With this fourth "Final Destination" film securing the top slot, "H2: Halloween 2" failed to meet pre-release prediction of it debuting atop the chart and only managed to land at third position. Performing under Zombie's first remake on the horror classic, this Dimension Films horror raked in approximately $17.4 million, about $3 million less than what many analysts projected.
Despite those downsides, what this 10th installment of the slasher series has earned apparently didn't dampen the studio's spirit. "We did really well, all things considered in going against another horror movie," said Dimension topper Bob Weinstein. "We're very happy as the film was produced on a $15 million budget, and we did very, very respectably. We wanted to see if there was still life in it. We think we can do something with it in 3D."
Securing a place in between the two gorefest films was Quentin Tarantino's "Inglourious Basterds". Slipping to the second slot after facing a 47.3% decline in sales, the Brad Pitt-starring World War II epic reeled in around $20 million for a cumulative two weeks total of about $73.8 million.
The fourth place went to "District 9". The Neill Blomkamp-directed movie nabbed around $10.7 million more to bring the total tally to $90,8 million. At its current intake, the sci-fi thriller has hauled in $60 million more than it cost to shoot the film. Rounding up top five box office was "G.I. Joe: Rise of Cobra" with approximately $8 million in its pocket.
Top Ten Movies at Weekend Box Office for August 28 - 30:
1. "The Final Destination" - $28.3 million
2. "Inglourious Basterds" - $20 million
3. "H2: Halloween 2" - $17.4 million
4. "District 9" - $10.7 million
5. "G.I. Joe: Rise of Cobra" - $8 million
6. "Julie & Julia" - $7.4 million
7. "The Time Traveler's Wife" - $6.7 million
8. "Shorts" - $4.9 million
9. "Taking Woodstock" - $3.7 million
10. "G-Force" - $2.9 million