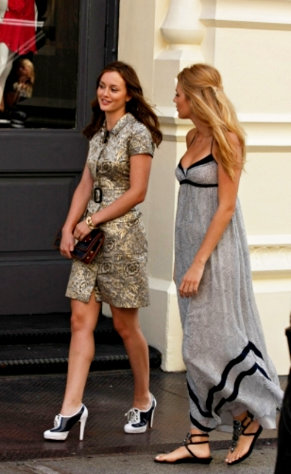 The CW has made a special featurette for one of the qualities that "Gossip Girl" is proud of, the wardrobe. Costume designer Eric Daman takes viewers inside the closet of the show's fashion department, showing off some collections which Serena, Blair and Chuck will be wearing in the third season.
Daman's concept for Serena is those attires which crave for attention because Serena is having an identity crisis. If in season 2 she resembled Kate Moss' sense of fashion where everything is sleek and simple, she will go back to the old 'party girl Serena' style. This includes a bejeweled vest and blazer splashed with lots of colors.
As for Blair, Daman wants to present a more mature look for her. This includes a revolution in the signature headband which goes from school-girl headband to cream-colored python headband. Clothes-wise, Blair is going sleeker and minimal because she is now a student of NYU who wants to be the new reigning queen.
Blair in fact has a connection with boyfriend Chuck's style, which is brooch. Like Blair who pays attention to details, Chuck is also a rather suave man who won't hesitate wearing a red rose brooch on his suit. Daman, who said that Chuck is his favorite character to dress, changes the style from urban dandy to Michael Douglas' Gordon Gecko from "Wall Street". This means Chuck will wear gold cufflings, suspenders and such.