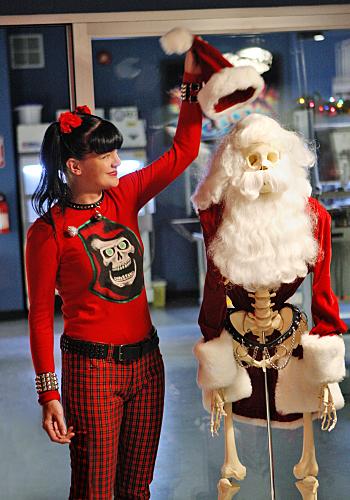 Last night's NCIS, "Faith," almost pushed the team's investigation into a Marine's death to the back burner, thanks to the terrific family/holiday story lines involving the cast.
Not that the murder plot lacked mystery and intrigue in its own right. Follow this link for a full episode guide, then read our review below and see if you agree with our take:
A surprise visit by his dad (a terrifically-cast Ralph Waite, who looks and acts like Mark Harmon's Gibbs) threw Jethro for a loop. He rarely shows, and was acting strangely.
When Gibbs can't quite put his finger on his father's erratic behavior, he brings in the heavily artillery: Ducky and scotch! The old-timers get drunk and share many laughs.
Ducky's armchair psychoanalysis leads to an interesting conclusion: Elder Gibbs isn't demented or losing his faculties, just going through old-fashioned emotional distress.
Since the taciturn father and son aren't exactly good at communicating, Jethro makes some calls back home and presses his dad, who finally admits why he came to D.C.
To Read More Click Here.