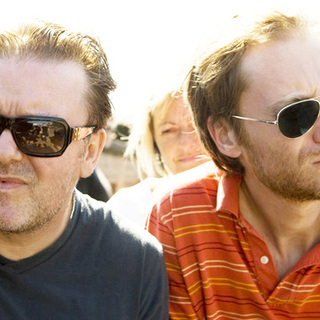 A new international trailer for "Cemetery Junction" has come out online. Sharing a lot of new scenes from the film directed and written by Ricky Gervais, the video mostly highlights three young guys who are at the crossroads of their lives as they are forced to make decision that will have a big impact in their lives.
Set in 1970s England, "Cemetery Junction" is a funny, touching and universal story of being trapped in a small town and dreaming of escape. The story revolves around three blue-collar friends who spend their days joking, drinking, fighting and chasing girls.
Freddie wants to leave their working-class world but cool, charismatic Bruce and lovable loser Snork are happy with life the way it is. When Freddie gets a new job as a door-to-door salesman and bumps into his old school sweetheart Julie, the gang are forced to make choices that will change their lives forever.
Playing the three buddies are Christian Cooke, Tom Hughes and Jack Doolan. Additionally, the film has Ricky Gervais starring as Freddie's father, Ralph Fiennes as Mr. Kendrick and Matthew Goode as Mike Ramsay. The drama comedy is slated to be dropped in the U.K. on April 7.