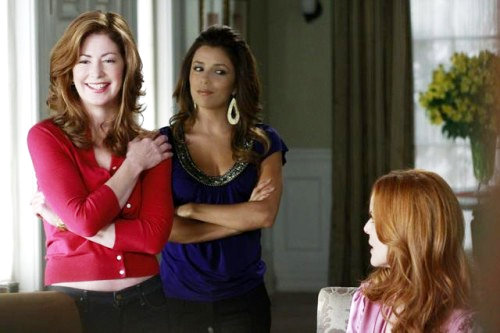 ABC aired two previews to "Desperate Housewives" season 6 opener, "Nice is Different than Good". In the first clip, Karl tries to get Bree to bed with him but she just won't do it because the sheet is filthy. In the second clip, Gaby knows more than meets the eyes when Carlos' niece goes out to school with a sweatshirt on.
In the sixth season, Bree struggles to break free from Orson and inhibitions. Meanwhile, Gaby is put to test by Ana who is now under her and Carlos' care. Carlos has been pursuing her to sign a paper that will state them as being the legal guardians of Ana but Gaby won't do it until the teen changes her attitude.
Also in the season premiere, Mike Delfino's bride will finally be revealed and Lynette faces the reality of another pregnancy.
On another news, the show will get a kind-of spin-off that will go for 35-seconds each. Serving as a promo for Sprint mobile, the vignettes will be aired during commercial breaks of the drama that premieres on September 27. The story will later go parallel with the show when the couple featured in the spots moves in to the neighborhood.
To Watch The Preview 1 Click Here.
To Watch The Preview 2 Click Here.