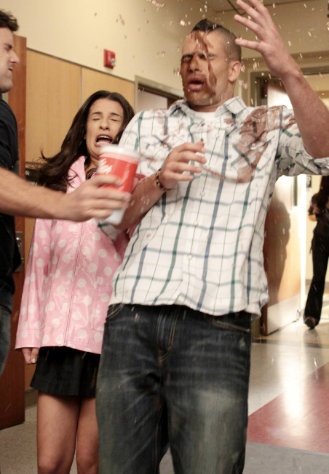 Sunglasses, a wedding dress and a hallway mess, "Glee" will be one confusing episode next week. In a shocking reversal of roles, McKinley High's cool kids are dethroned in an "icy" fashion, and that means throwing a glass of icy drink right on the face.
Meanwhile, Will composes a mash-up for a very special occasion after inspired by the students and Sue shows off her softer side. The episode entitled "Mash-Up" is airing on Wednesday, October 21.
Being snubbed from NBC's Macy's Day Parade, "Glee" will commence with the national tour. "We're going to do what 'American Idol' has done and put the kids on the road," creator Ryan Murphy tells the New York Post. "It all equals revenue streams for Fox." Filming for the first season ends in Spring 2010, thus the jaunt may begin around summer.
Besides, the songs coming out of the show have become hits on iTunes that Columbia Records is going to release a compilation of covers called "Glee: The Music, Volume 1" on November 3. It will go on sale for $9.99.
To Watch The Preview Click Here.