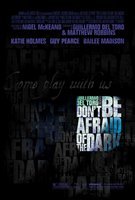 Guillermo Del Toro is convinced his new movie "Don't Be Afraid of the Dark" will terrify cinema-goers because the scary picture has been given a restrictive adults-only rating even though it doesn't contain any "sex, gore or profanity".
The new film, a remake of a 1973 television feature, stars Katie Holmes and Guy Pearce and tells the story of a young woman who is stalked by monsters in the night. Director Del Toro reveals he deliberately left out scenes of sex or violence in a bid to secure a wide-ranging age-rating, but officials at the Motion Picture Association of America (MPAA) have still classified the picture R.
To Read More Click Here.