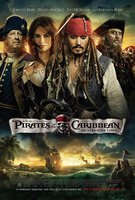 New pictures from the shooting location of "Pirates of the Caribbean: On Stranger Tides" have emerged via different sites. One photo shows the Queen Anne's Revenge, Blackbeard's ship, which is now anchored at Heeia Kea Boat Harbor on the Windward side of Oahu, Hawaii.
Ke Alakai, which obtains the image, reports that Johnny Depp has filmed at the ship last week. The depicter of Captain Jack Sparrow was even snapped greeting fans when he emerged from his makeup trailer with his full costume.
SpoilerTV, in the meantime, has received other pictures from the set. The photos capture the inside part of a ship and are taken to show its details. However, it is not mentioned whether the ship is the Queen Anne's Revenge or another ship from the movie series, the Black Pearl, which was also brought to Hawaii earlier this year.
To Read More Click here.