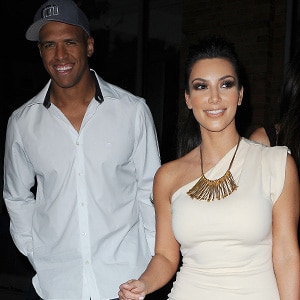 Looks like Kim Kardashian's new footballer Miles Austin has already gotten her family's seal of approval.
Austin joined the Kardashian clan in NYC to spend the weekend celebrating the Fourth of July and Khloé's birthday, and an insider says Kim's sisters are already fans.
"Kourtney and Khloé really like him," a source tells me. "They're really meshing well together."
As for her ex-boyfriend Reggie Bush, who was seen cozying up to Amber Rose this weekend...
Kim apparently couldn't care less. "Thankfully, she's over it and doesn't even realize, notice or care," a source tells me of her non-reaction to the news.
It seems she's too busy with her own new romance. On Saturday night, Kim and Miles held hands outside of Avenue in NYC, where a source says "they looked smitten".
And on Friday night, they hit another Avenue...this one was a beach club in New Jersey.
On Sunday, they celebrated the Fourth with a yacht ride with Kim's family and friends. Sounds like there's definitely fireworks between these two!