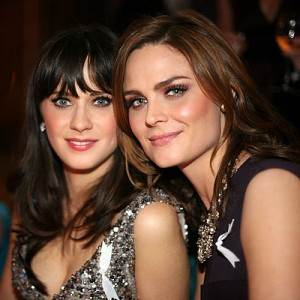 FOX has released 8 video featurettes with the cast of Bones. They discuss the Christmas episode which is set to air on December 10th and the cast reminisces about their own past Christmases. Bones always does cute Christmas episodes, so I'm looking forward to this one.
The December 10th episode also happens to feature Zooey Deschanel, Bones' real-life sister, who will be playing her cousin. We don't yet have an official synopsis for the episode, but FOX released a short press release about Zooey and the return of Ryan O'Neal (Bones' father):
IT'S A REAL SISTER ACT WHEN ZOOEY DESCHANEL GUEST-STARS ON BONES THURSDAY, DECEMBER 10, ON FOX
Ryan O'Neal Also Guest-Stars in Episode
Zooey Deschanel, star of the romantic comedy '(500) Days of Summer' and sister of BONES' Emily Deschanel, will guest-star in 'The Goop on the Girl,' a special holiday-themed episode of BONES airing Thursday, Dec. 10 (8:00-9:00 PM ET/PT) on FOX.
In this first-ever on-screen pairing of the Deschanel sisters, Zooey Deschanel plays MARGARET WHITESELL, a distant relative of DR. TEMPERANCE BRENNAN (Emily Deschanel). When Brennan's father, MAX KEENAN (guest star Ryan O'Neal), makes contact with Margaret, he invites her to spend Christmas with him and his daughter. Meanwhile, Brennan and BOOTH (David Boreanaz) investigate the death of a man dressed as Santa Claus who was blown up after a botched bank robbery.