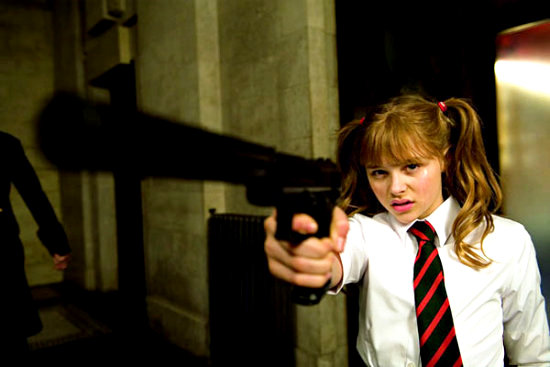 On Friday, March 12, "Kick-Ass" was premiered at 2010 SXSW and following the screening, the movie's star Chloe Moretz had an interview with MTV to talk about the possible sequel. Though she claimed she does not know anything about "Kick-Ass 2", the depicter of Hit Girl admitted that she would love to reprise her role and has already made a deal with screenwriter Jane Goldman about her character.
"I know nothing, but all I know is that I want a purple Ducati. I'm serious," Moretz revealed. She further explained, "Jane and I talked about it, and...she promised me. She promised me that I will get a purple Ducati...with like a little Gatling gun and then like a little Droid that pops out with all the knives and stuff knives and stuff -- and like a neon under-thing [light]."
The 13-year-old actress won't quite be of age to legally ride vehicle but she pointed out that she will "be a teenager" if the film is shot in the next few years. Additionally, Hit Girl may be seen fighting Red Mist in the sequel as her co-star Christopher Mintz-Plasse told MTV about his idea for the relationship between his character and Hit Girl, "And this guy's going to kick some ass in the sequel, hopefully. It'l
l probably be me versus her for a little bit."
To Read More Click Here.