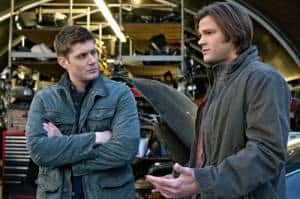 I am seriously, seriously not happy with the synopsis for the May 6 all new episode of Supernatural (the season finale will be airing on May 13). It's incredibly SPOILERY, people! So don't read unless you want some indication of what might happen with a character. The promo photos for the episode are also included below. Check out Death. Creepy. But I'm kind of liking a showdown between Dean and Death in a stupid pizza parlor.
For those of you who did read it, please mourn with me.
DEAN GOES HEAD TO HEAD WITH DEATH / BOBBY SELLS HIS SOUL TO HELP STOP THE APOCALYPSE.
To Read More Click Here.