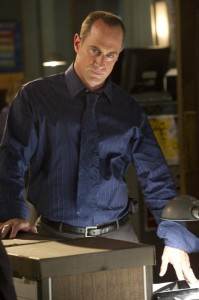 After being incredibly impressed with last week's episode of SVU, with Jennifer Love Hewitt as guest star, I knew it was going to be difficult for this week's episode to top that, or even match it.
Unfortunately, it wasn't on the same caliber. But it was still a solid episode of SVU.
A young girl was hit by a cab, but Benson and Stabler soon discover that she had also been abused and stared before dying. Tracking down her father, they learn that the sent his daughter and son off to a farm to work because the family had lost everything after their mother had died. The father begged Benson and Stabler to help find his still missing son, Micah. Benson and Stabler try to track down the woman who offered Micah and his sister jobs at a farm in the first place while Fin hits the streets, trying to track Micah down. He's led to a group prostitution ring. When they finally find Micah, he's a prostitute with scars up and down his back and is begging to be let go, otherwise they'll get punished. His lawyer won't let the detectives question Micah while he's still a suspect in his sister's murder, so they call in Dr. George Huang.
To Read More Click Here.