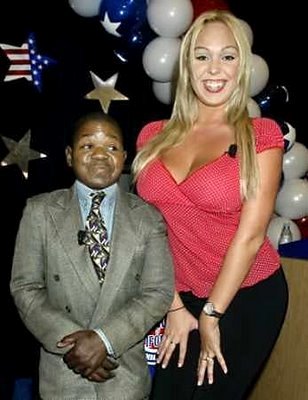 Gary Coleman's ex-wife Shannon Price has blasted allegations she pushed the actor down a staircase before he suffered a fatal brain haemorrhage, insisting she would have taken her own life before harming the star. Price was with the former "Diff'rent Strokes" actor when he fell at the home they still shared in Utah last month.
She had her ex-husband's written permission to make medical decisions on his behalf, and permitted doctors to turn off the actor's life support system on May 28 after he fell into a coma and she was advised to let him die. On Monday, June 7, Price arrived in a wheelchair, clearly fragile, to appear for a satellite interview on U.S. breakfast programme "Good Morning America" - and she strongly dismissed allegations of foul play in Coleman's death.
Recalling the night Coleman fell, she said, "I asked him if he could make me some food and he went downstairs and I heard this big smack. I rushed down there and found him in a pool of blood. People can say whatever they want because I know the truth. I would never hurt my husband - ever. I would take my own life before I would ever, ever harm him."
To Read More Click Here.