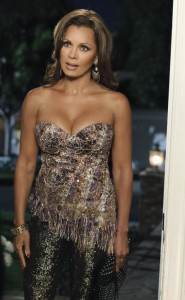 How is everyone liking Vanessa Williams on Desperate Housewives? A new episode will be airing on October 10. We've already posted promo photos for the upcoming episode and now we have four sneak peeks from ABC below.
SOME OF SUSAN'S SEXY INTERNET SHOW MOVES ARE BEING STOLEN BY A COMPETITOR, LYNETTE QUESTIONS A DEPRESSION REMEDY PRESCRIBED TO TOM BY HIS DOCTOR, AND RENEE INVITES BREE TO GO CLUBBING WITH HER, ON ABC'S DESPERATE HOUSEWIVES.
To Read More Click Here.