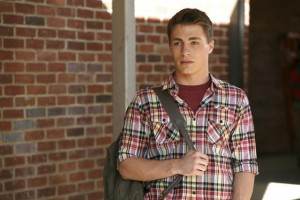 The title of this week's episode of THE GATES is "What Lies Beneath" and I thought it was really appropriate as we find out there's a lot going on underneath in this place – namely a whole lot of secrets.
The episode starts with two werewolves running through the forest in search of a deer, when they catch it they transform back and it's Lucas and his father. As new Chief Monohan continues to investigate into the murder of the former police chief, he ends up interviewing the father and son werewolves. Turns out the former chief wasn't as perfect as The Gates claims everything inside to be – he had been taking bribes to keep everyone's dirty little secrets under wraps. One of those secrets involved Claire, the other half of a husband and wife vampire duo. Her husband is just as unhappy about covering for her transgression as Lucas' father is about covering up his son's.
Meanwhile Charlie is dealing with her own problems and her own secrets, though one of them turns out to be even bigger than she knows. Spotting an usually large vein running across her back, she runs off to see her doctor, who reassures her it's only a rash. But it turns out that Charlie's mother was a succubus, something that her father hasn't yet told her.
Then there is Devon, the woman who owns a spa and likes to deliver her "Vine of the soul" teas all over town. Strangely enough these packages keep showing up where there's trouble. First she delivers one to Claire with a note asking "got cravings?", then there's the one that is seen at Chad's place just moments after evidence is found that links him to the murder of the former police chief. So when she hands one to Nick and insists that it's for Sarah, we're left wondering what else is up her sleeve.
To Read More Click Here.