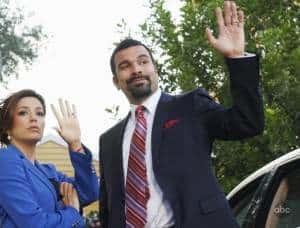 ABC has released a few promo photos for the January 10th new episode of Desperate Housewives, along with a synopsis (check out the photos and sneak peeks for the January 3rd episode).
SUSAN GETS SET TO STRIP, ON ABC'S "DESPERATE HOUSEWIVES"
"You Gotta Get a Gimmick" The act of stripping reveals many things, on ABC's "Desperate Housewives," SUNDAY, JANUARY 10 (9:00-10:01 p.m., ET). Susan turns up the heat for Mike, Bree learns it won't be easy to undo the hurt she's caused Orson, Lynette discovers Tom's true intentions, and Gaby is forced to examine feelings she's suppressed about her heritage.