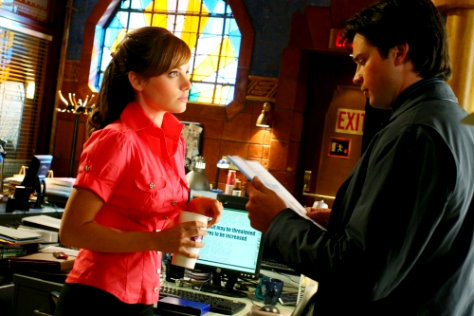 The Toyman is back toying with Oliver in the next week's episode of "Smallville". Tess forces Oliver to come to a Queen Industries gala to put the Board at ease, but things go awry when the Toyman (guest star Chris Gautheir) shows up with a bomb and a plan to take revenge on Oliver. The Toyman tells Oliver he must confess to murdering Lex or he will blow the place up.
Meanwhile, as part of his training, Jor-El gives Clark the ability to hear other people's thoughts. The episode is called "Echo" and it will air on Friday, October 16. What the synopsis doesn't share but the preview does is the moment where Lois and Clark get intimate. If one freezes the sixth second of the video below, there seen the couple with no clothes on.
Winslow Schott, the alter ego of Toyman first appeared on the show's eight season in the episode called "Requiem". He was a former employee of Queen Industries who was under the employment of Lex Luthor. His skill specializes in bomb planting.
To Watch The Preview Click Here.