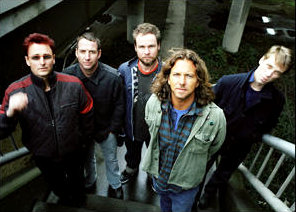 Sixteen songs from Pearl Jam will be exclusively featured during the two-part sixth season finale episodes of "Cold Case". Their songs will be featured during the airing of the CBS' TV show starring Kathryn Morris on Sunday, May 3 and Sunday, May 10 at 9:00 - 10:00 P.M. ET/PT.
In the episodes, titled "The Long Blue Line" and "Into the Blue", Pearl Jam's music will be used to tell the story of a female cadet who was murdered at a military academy in 2005. Some of the band's songs to be used in the TV series will be lifted from the band's 1991 debut studio album "Ten". The songs, however, are yet to be determined.
Commenting on the use of Pearl Jam's songs in the TV series, executive producers Jennifer Johnson and Greg Plageman say that they are both excited and thrilled. "The breadth of the Pearl Jam catalog captures not only the spirit of alienated youth, but narrates that journey to adulthood and disillusionment and redemption," Jennifer explains. Greg then adds, "It's also a great fit with the team's murder investigation of a trail-blazing female cadet."
In related news, Pearl Jam are gearing up to re-release their first studio album in U.S. on March 24. In celebrating the re-release, there will be a special programming dubbed "Pearl Jam Ten Revisited" to be broadcast by VH1 on March 21. The show will take a look back at the band's debut album, showcasing music videos for their singles "Even Flow", "Alive" and "Porch" as well as the television premiere of the uncensored version of "Jeremy".