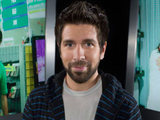 Chuck star Joshua Gomez has revealed that Morgan will become more involved with Chuck's spy career in the upcoming fourth season.
The actor told ChuckTV that viewers will see his character working alongside the CIA.
"The Buy More is rebuilt and taken over by the CIA," he explained. "Morgan [is] in charge of keeping the CIA's cover. I'm not jumping out of any planes yet, though, so there's room for growth."
To Read More Click here.