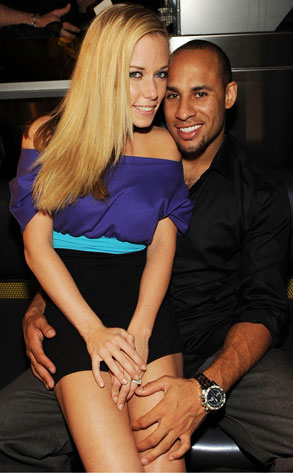 Real men do cry. Just ask Kendra Wilkinson.
The former Girl Next Door says she expects her football star fiancee Hank Baskett to cry at their wedding.
I'm a crier, Wilkinson told me yesterday while shooting a spot for Drive Safe, E!'s upcoming anti-drinking and driving public service campaign. ''I laugh. Whenever I feel like crying I'll laugh to overpower it.
So I'll be laughing on the way down [the aisle] because I'll see Hank crying, she continued. I know he'll cry. When I get to him, that's when I'll cry.
Hopefully, the two will be able to control themselves because...
They'll be reciting their own vows. I need to start writing them now, but I don't know where to start, she said. I need to start with the perfect word...I can't think of the words to start it with. Like, 'The day I was born?' or like, 'The day I met you?' I mean, what do you start with?
The two are set to marry next month at the Playboy Mansion.
Kendra, whose self-titled reality show debuts June 7 on E!, says she and Hank are not planning any sort of blowout bachelor or bachelorette parties.
We're traditional, she insisted. We are very, very old school. The whole last-day-of-freedom thing is not us. We are very happily giving up our freedom. I mean, we are still free, but we are very happily getting married.