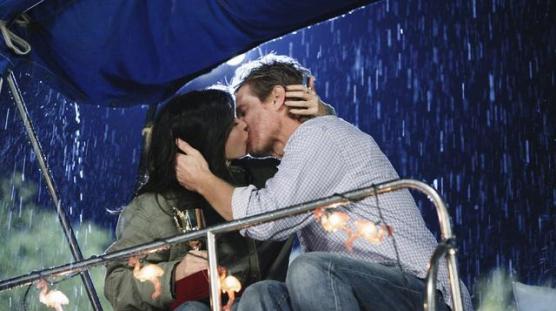 Now that Cougar Town has seemingly become less and less about cougars and more of an ensemble comedy, the show has been exploring the unique relationships between the different characters. We're just going to go over the various story lines from "Stop Dragging My Heart Around" and discuss what worked and didn't.
Travis and Kylie's first time. While we could care less about their relationship, it did lead to a funny moment when Travis and Jules both got home in the morning disheveled; and when both parents attempted to parent him later.
Bobby and Jules. What!? If it weren't for the massive Cougar Town spoilers, that could have been our reaction. While we love the goofy, mullet-rocking Bobby, we understand that no serious woman could feel the same way, especially not Jules. It was funny to see a clingy Bobby just show up with his boat outside Jules' house and it was good to see Jules finally put the guy out of his misery at the end. Let's hope this pairing never happens again, but we're sure it will.
To Read More Click Here