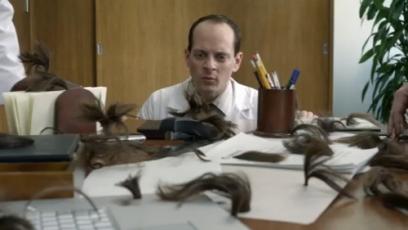 On last night's Better Off Ted, Veronica and Ted were each dealing with their own set of daddy issues.
Veronica was trying to have a normal relationship with her father when she found out he only had one year to live, while Ted desperately tried to push Phil and Lem to develop a treatment for baldness to impress his father.
Phil and the Hair
Now for some of our favorite quotes from the episode.
Lem: But what about protocol?
Ted: Forget protocol. Did Einstein stop to fill out paperwork before discovering his Theory of Relativity?
Phil: Actually, he was a patent clerk, so all he did was fill out paperwork
Veronica: Ted, you don't have to go through all this. Just say the word and the election's her's. We did for Iceland and we can do it for your kid
Lem: We are not mad scientists, Ted, regardless of what our bowling shirts might say. | permalink