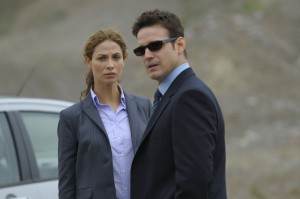 Warehouse 13 was a huge hit for SyFy last summer and the network has decided to implement a huge multi-media campaign involving social networking, outdoor screenings, a strong Comic Con presence and other promotions.
Season 2 of Warehouse 13 will be premiere at 9:00 p.m. on Tuesday, July 6. The release below explains the various marketing tactics SyFy will be using to promote the show in its sophomore year:
In making the announcement, Blake Callaway, Senior Vice President, Brand and Strategic Marketing, Syfy, said: As viewers told us by the millions when they made Warehouse 13 the smash hit of summer 2009, the series has universal appeal. Warehouse 13 is a witty, character-driven adventure series featuring relatable stories with an imaginative twist. In this season's marketing campaign, we are committed to bringing even more fans to the popular show.
To Read More Click Here.