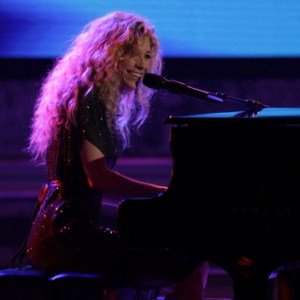 Brooke White may have only finished fifth on the seventh season of American Idol last year, but like many others, it doesn't mean the trail ends right there. Seems we'll be able to get that quirky mix of soul and whatever on CD.
The singer is set to release her debut album, High Hopes & Heartbreak, on July 21. The album is co-produced by Idol judge Randy Jackson, and is released under his independent record label, June Baby Records.
"I wanted to work with Brooke from the moment I met her," Jackson said in a press release announcing the album. "When she sang, I instantly heard the legendary greats that inspired her: Carole King, Carly Simon, Joni Mitchell... I'm so happy to be working with an amazingly talented artist at the beginning of her career. She truly is an artist for all ages and this album is a great collection of songs from a great new artist who was birthed on the stage of American Idol."
"Once the decision was made, it felt pretty liberating," White said of the decision to release an album independently, as opposed to the eventual big stars of season 7, David Cook and David Archuleta. "The goal was to create a very free-flowing, adventurous type of record. I wanted it to have the feel of a classic, timeless album." She also says her album grabs inspiration from her idols--Fleetwood Mac, Elton John and the Eagles, among others.
The 25-year-old Arizona native release a download-only single earlier this year, "Hold Up My Heart"; it ultimately peaked at the second spot on the iTunes Pop Singles Chart. Her run on last year's American Idol was marked with her much-loved renditions of songs by Carly Simon, the Beatles and Dolly Parton, but was eliminated despite getting consistent praise from the judges.